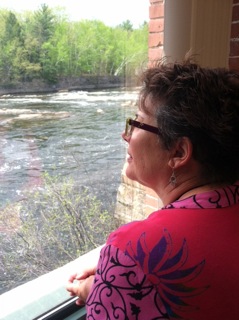 Recently, I was asked to give a presentation at the Villa Crest nursing home.   The presentation was in honor of Assisted Living week and I was invited to give  a talk and provide demonstration on techniques in nurturing oneself and reduce stress. I was elated to be given the opportunity to work with our elderly: it was like  "old home week"- no pun intended.  Before I became a massage therapist, I studied Occupational Therapy and worked in a nursing home providing therapeutic touch, activities of daily living and individually designed sensory programs.
On this day I engaged a group of eager and grateful assisted living residents.  They were attentive and relished the time as they participated in a deep breathing and guided imagery exercise, and learned about aromatherapy. There were also residents that signed up to receive chair massage to complete the whole experience.  As hours quickly came and went I couldn't help but notice the participants expressions of joy and contentment.
As a massage therapist I understand the power of touch, whether it's to hold a hand, softly brush a face, give a neck rub or provide a full body massage. The gift of touch is as, essential to us as the air we breathe, no matter what age we are.  I am deeply honored to have been able to share this experience with the residents of Villa Crest.