Donna Basiliou, LMT
I believe that massage is among the essentials to maintaining good health, whether on a physical, emotional, or spiritual level. The gift of touch along with my ability to listen carefully to my clients facilitates the ability to focus attention on areas that require comfort and healing.
The mind dictates how the body responds
I think for people today, relaxing can be a challenge because we live in such a high-performance society.  People have tension where they don't even think it exists.   I am skilled at helping people in relaxing, releasing, and letting go – from a calm environment to earning your trust, it's how you feel both physically and mentally.  When your mind is relaxed, your body responds to that.
As your therapist, I will work in partnership with you and listen to your health concerns as it pertains to massage.  Together we plan a course of action that works best for you. If you're here to relax, gain flexibility, or reduce muscle tension I am well prepared to assist you.
Credentials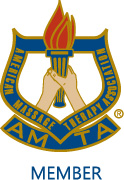 NH State Licensed 5008M
AMTA Member 1297414